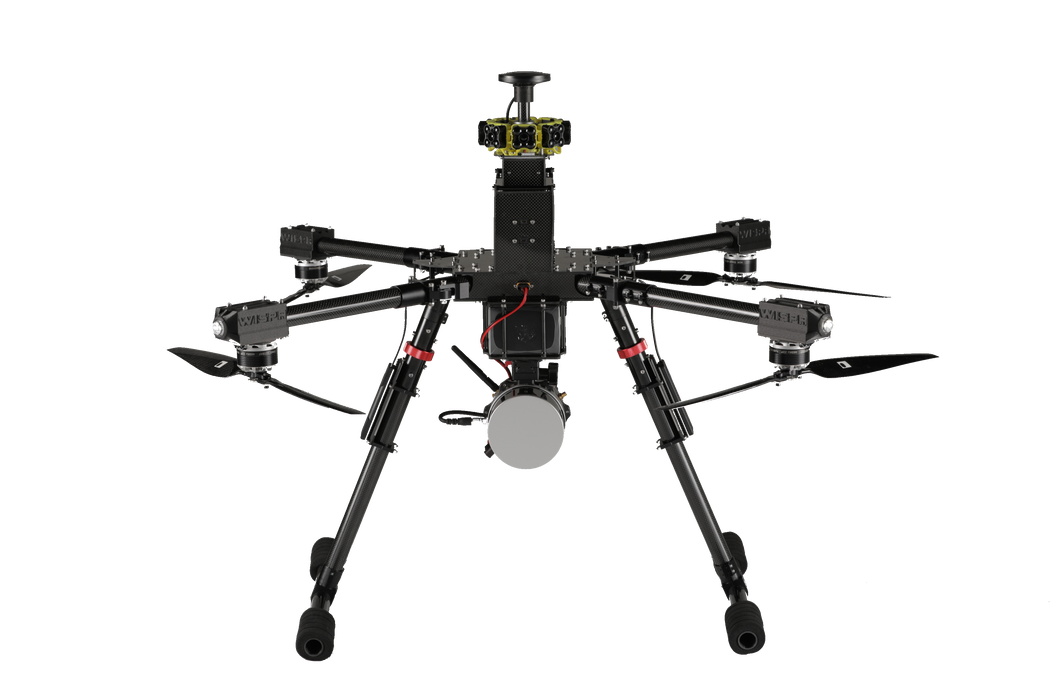 WISPR Ranger Pro 1100
Original price
$14,075.00
-
Original price
$14,075.00
MADE IN THE USA, The Wispr Ranger Pro features a 6lb payload capacity with omni directional collision avoidance and a maximum flight time of 38 minutes.   The Ranger Pro can handle 50mph winds.  If you are looking for a USA made drone that is tough and capable of carrying multiple payloads, the Ranger Pro is your next purchase!
Specifications
Max Payload
6-lb
Max Flight Time
22 minutes with 5-lb
26.5 minutes with 3.3-lb
33 minutes with 0.5-lb
38 minutes with 0-lb
Max. Payload Stability Wind Rating
+50mph - Tested

Collision avoidance
Omni-directional collision avoidance
RTK?
Yes
PPK compatible?
Yes
Diagonal Wheelbase
38" unfolded
19" folded
Height
15" without landing gear
28" with landing gear
Weight with battery
17lb
Max Takeoff weight
23lb
Max Speed
60MPH
Max Operating Temperature
122 degrees F
Minimum Operating Temperature
-4 degrees F
Frame type and material?
Quad copter made out of carbon fiber and aluminum. Made rugged for work!
Battery Type
1 x 6S 25000 mAh LiHV
Battery Weight
5.7lb
Battery Charger
Any type of LiHV 6S battery chargers
Propeller Size
18.5" x 6.3 folding carbon fiber propellers
24 Volt Power power port?
Yes
HDMI I/O capabilities?
Yes
Serial I/O?
Yes
SBUS I/O?
Yes
Flight controller software?
WISPR Flight Firmware (Open Source Software)
Ground Control Software?
WISPR Ground Control (Open Source Software)
Compatible with zoom cameras?
Yes
Compatible with mirrorless cameras such as Sony and Cannon cameras?
Yes
Compatible with FLIR and Workswell Wiris Pro?
Yes
Can you integrate custom gimbals and cameras?
Yes
Standard Warranty
1-Year
Hand controller?
Black or Blue Herelink Smart Controller
Included in purchase?
*Smart Controller
*Case
*Battery
*Dual Battery Fast Charger
*2 - pairs of propellers
*Ranger Pro Carrying Case
Shipping Included?
Yes
Made in America?
Yes
Controller

WISPR drones standard controls is the ground station smart controller.   
First Person View video stream and control the drone. 
3 miles range connection to drone, telemetry, and video stream.
Video sharing ability via Wi-Fi tether or USB is available via the smart controller.
PAYLOADS

WISPR Ranger Pro Series is specifically engineered to manage 6lb payload in moderate to high winds.
22 minutes flight time with 5-lb. payloads
26.5 minutes flight time with 3.3-lb. payloads
33 minutes flight time with 0.5-lb. payloads